Visiting and hiking in Yellowstone is a magical experience. There are a lot well known hikes and places within Yellowstone National Park. In this post, I will share with you some of my favorite hidden gems in Yellowstone.
A goal of mine is to visit every single National Park in the United States. In 2020, I spent the entire summer exploring Yellowstone National Park. As a result, I have done a good job uncovering the hidden gems in Yellowstone 🙂 My absolute favorite Yellowstone hidden secret lies beyond the popular Fairy Falls trail leading to Imperial Geyser!
Read on to discover how to find this hidden gem in Yellowstone and why it's so special. Finally, get a quick glimpse into two more Yellowstone hidden secrets.
What is the Hidden Yellowstone Hike?
There are a number of hidden Yellowstone hikes. In this post, we will explore my personal favorite. Since it doesn't have an actual name, we will just call it the Hidden Yellowstone Hike. Basically, it is a continuation of the trail past Fairy Falls and also past Imperial Geyser. If you stop at these two locations alone, you have already done one of Yellowstone's top hikes. This added leg I am going to share with you is really the cherry on top!
To begin, I will share some quick details on the Hidden Yellowstone Hike
7.1 miles round trip out and back
Moderate difficult (mostly flat with a few small inclines and one large hill at the end)
At the conclusion of this hike, you reach an amazing hidden pond and outlook with expansive views of Yellowstone National Park. Let's go explore my favorite hidden gem in Yellowstone!
How to Get to One of the Best Hidden Gems in Yellowstone?
In this section, I will share with you exactly how to reach the conclusion of the Hidden Yellowstone Hike. Along the way, you will encounter other top views in Yellowstone so this hike is really quite the experience.
First, start your hike at the Fairy Falls parking lot. This is a fairly large dirt lot so it is not too difficult to spot. Begin your journey by walking the 0.8 miles to the Grand Prismatic Spring overlook. This is one of the top hikes in Yellowstone for the best view of Grand Prismatic Spring. Viewing Grand Prismatic Spring from above is much prettier than the eye level stroll along the boardwalk through the spring. From above, you can really distinguish the different colors of the spring. It truly is grand and spectacular. From here, continue along by following the signs for the Fairy Falls Trail.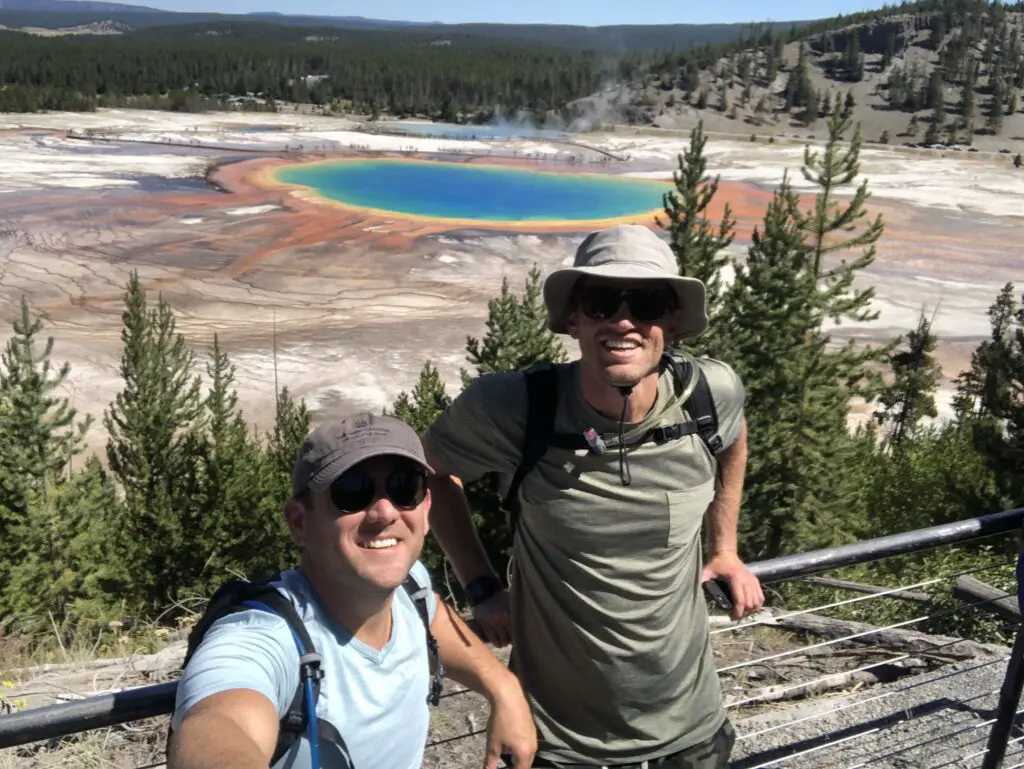 Next, the path to Fairy Falls will continue your journey to one of Yellowstone's hidden secrets. This adds another 1.9 miles to your journey. This part of the trail is a rather gentle hike that meanders through a forest. At the end, you will be greeted with another amazing Yellowstone view, Fairy Falls. Fairy Falls is an impressive waterfall. It plunges nearly 200 feet into ice cold waters. Swimming here is not for the feint of heart.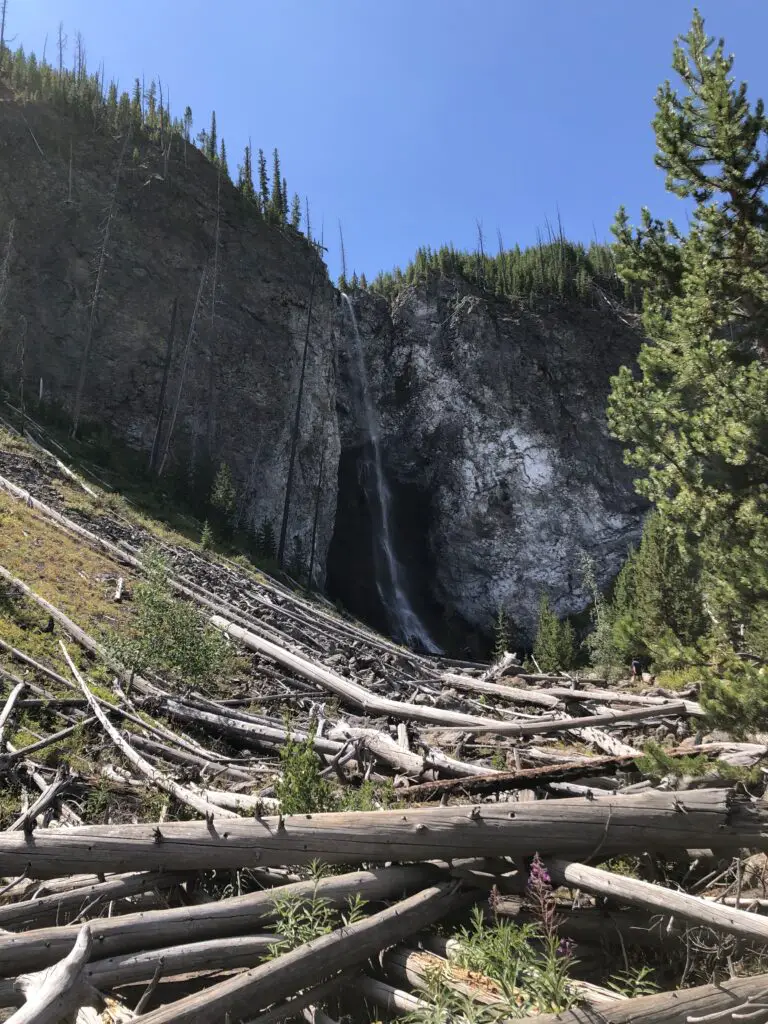 Afterwards, the leg of the journey past Fairy Falls is really when the crowd begins to thin out. Most people turn around to head back after Fairy Falls. For those that continue onward, it is about another mile to Imperial Geyser. The trail opens up a bit here so there is less tree cover. Be sure to pack water and sunscreen.
Upon reaching Imperial Geyser, you will get a chance to see a Yellowstone geyser that many do not see. It is smaller than Grand Prismatic but equally as colorful. There are no guardrails around the spring. As such, you can get close to feel the heat. Be careful!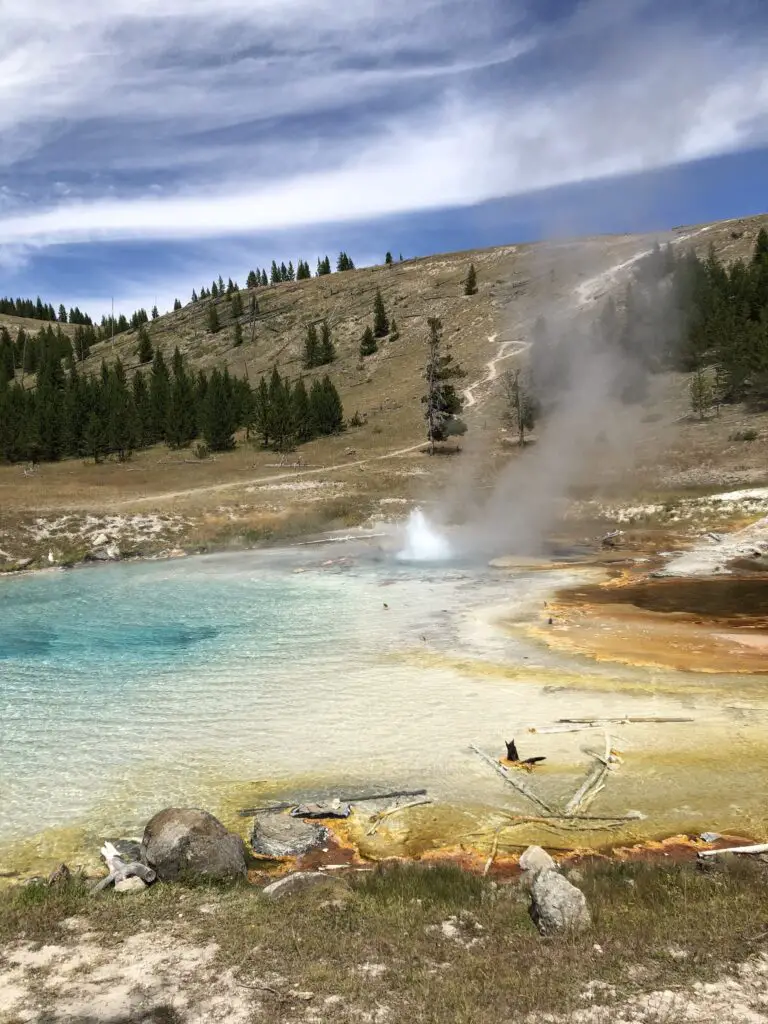 At this point, hikers begin heading back to the Fairy Falls parking lot. This is no surprise as you will find yourself in a valley next to Imperial Geyser. Heading back is an easy choice without any clear trails around. However, this would be a mistake. By now, you are so close to reaching one of the hidden gems in Yellowstone.
Looking past Imperial Geyser, you will see a large and steep hill. From the top, you can tell it would be an impressive view. However, there is no clear trail. Basically, it's a rock scramble to the top of this leg burner. As you reach the crest, turn around to be greeted with one of the best views in all of Yellowstone National Park!
Enjoy this view for a moment before continuing over the crest and down the other side. Here, you will see a beautiful small pond covered in lily pads. Congratulations, you have reached one of the best kept hidden gems in Yellowstone.
Take your time to walk around the pond while enjoying the scenery. This pond while at the top of a hill sits in a small valley. As a result, the sounds from around the park truly get turned off here. I remember this Yellowstone hidden secret as the most serene place in the entire park. Take a moment to tune out, feel the sun, and enjoy the sights and smells. This is one hidden gem in Yellowstone that won't soon forget.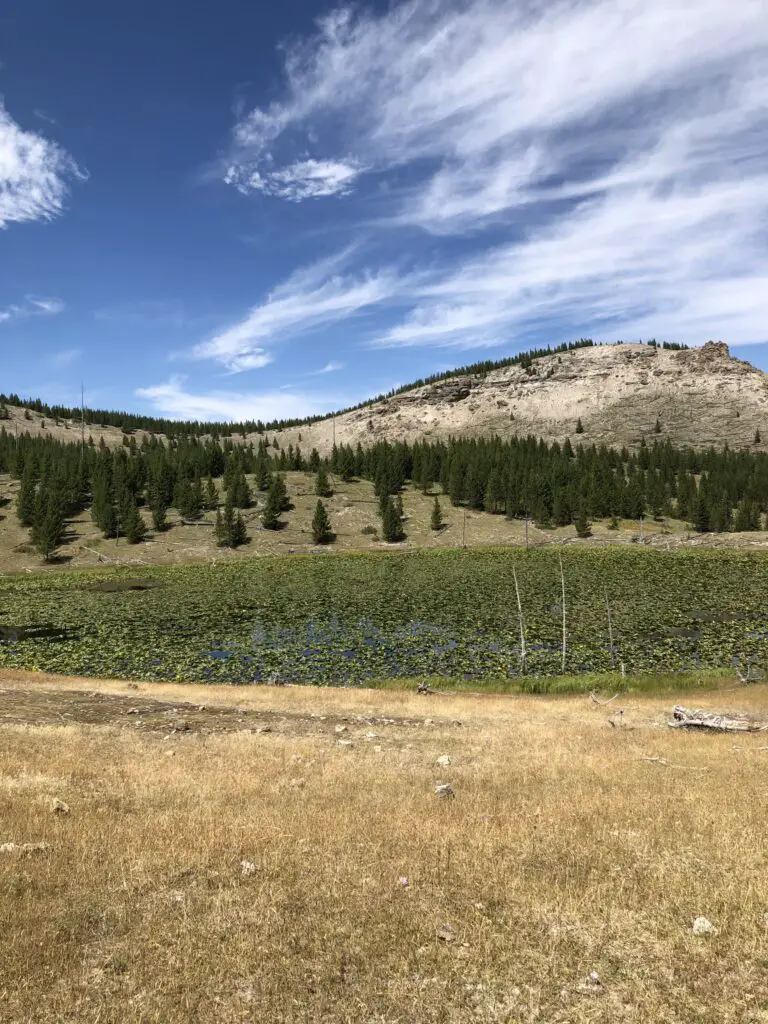 Other Hidden Gems in Yellowstone
While the Fairy Falls extension hike is my favorite hidden gem in Yellowstone, there are a few other Yellowstone hidden secrets. In this section, I'll reveal two more of my favorite hidden gems in Yellowstone.
First, I want to share you with you Point Sublime. Most visitors are familiar with Artist Point. This is a magnificent overlook of lower Yellowstone Falls. Tourists can easily drive here and walk the paved path/stairs to the Artist Point overlook. It's an easy walk for one of the best views in the park. However, with just a little more effort – you can reach an even better and more secluded view of Yellowstone Canyon.
When the paved trail of Artist Point ends, look for a less traveled trail to Point Sublime. The trail to Point Sublime is only 1.5 miles (3 miles round trip) so it's 100% worth it. Also, this trail is not exceedingly difficult. However, you do need to watch your step in some places as the trail gets precariously close to steep canyon walls dropping far into the river. I'm not sure why but this trail is overall much less traveled than its counterpart, Artist Point.
I recommend doing this hike at sunrise. That way, you will have a good chance of having Point Sublime to yourself. The view from this Yellowstone hidden secret is to die for!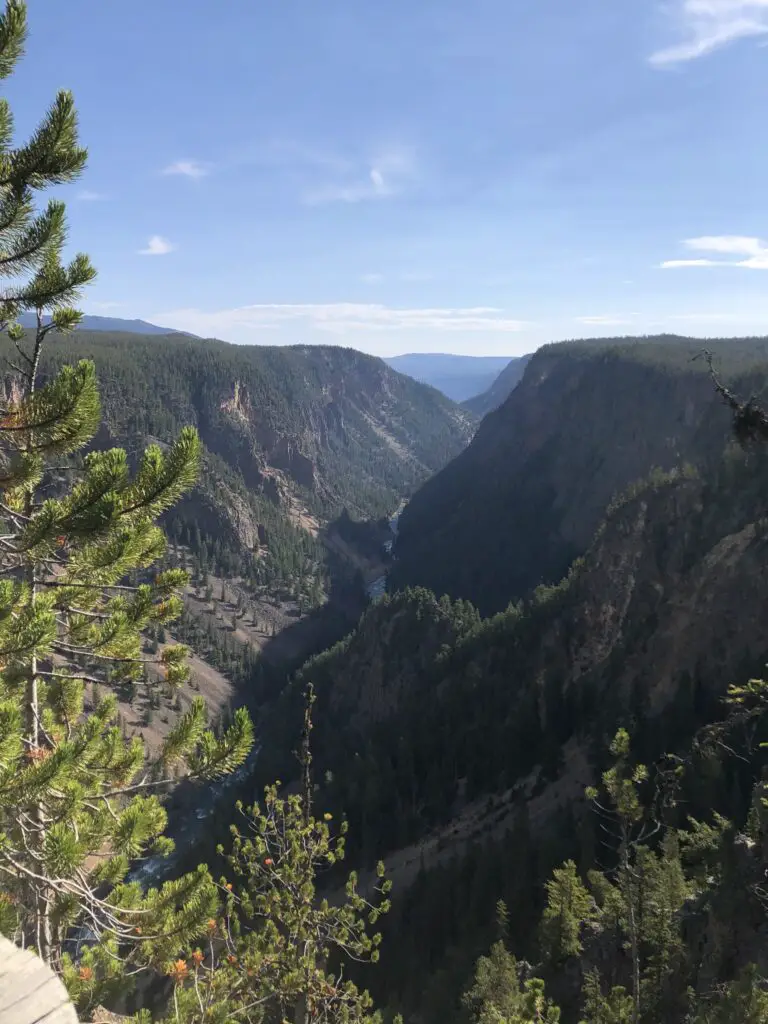 Finally, the last of my hidden gems in Yellowstone that I will share with you is not a hike, but rather a place to visit. Most commonly, visitors will flock to the Hayden Valley for views of bison, wildlife, and open land. Hayden Valley is centrally located in the park and is a main tourist through fare.
However, I recommend checking out Lamar Valley instead. Lamar Valley is located in the far Northeast corner of the park. Due to this, it is far more secluded and the road less traveled in Lamar Valley. Here, you have not only a good chance of seeing bison roaming but also bears, moose, and even wolves. Lamar Valley is the premier place in Yellowstone for bison and wildlife sightings. Again, try arriving here at dawn for your best chance of wildlife sightings.
That's it folks! I hope you enjoyed discovering my favorite hidden gems in Yellowstone. Check my Suggested Itineraries for other Yellowstone top hikes and places to see. For information on fishing in Yellowstone and a Wyoming fishing license, check here. If you are visiting Yellowstone in Winter, also be prepared.
Finally, I also recently spent some time in Glacier National Park and wrote about the best scenic hikes in Glacier National Park too!