Yellowstone National Park has many beautiful sights and is full of diverse wildlife. In particular, sighting bison in Yellowstone is popular. To improve your chances to spot one of these creatures during your next visit, you should know the best places to see bison in Yellowstone.
Fortunately, Yellowstone has a lot of bison! The number of bison in Yellowstone is estimated between 2,300 and 5,500 annually.
In this article, we will share the best places to see bison in Yellowstone, when to see bison in Yellowstone, and how to see bison in Yellowstone safely.
Get ready to enjoy finding Yellowstone's favorite animal!
Where can I see Bison in Yellowstone?
While driving around Yellowstone, there is a chance you could run into a bison anywhere. However, there are two places in Yellowstone where bison sightings are most common. The best places to see bison in Yellowstone are either in Hayden Valley or Lamar Valley.
Hayden Valley: Hayden Valley is a central throughfare of Yellowstone National Park and usually the easiest and best place to see bison in Yellowstone.
This valley is located smack in the middle of Yellowstone National Park. Grab any park map and you will have no trouble finding it. In fact, it's one of the more popular roads for traversing through the park. It is 7 miles long and runs North to South, allowing plenty of opportunities for spotting bison.
Along this road, there are dozens of turnouts. As such, you can pullover easily anytime you spot a bison. It's common to see bison herds roaming the floor of Hayden Valley.
However, you may not even have to pull over. At times, bison stand in the middle of the road creating traffic jams! Just hope that you are near the front of the line for a prime view.
Lamar Valley: The second most common and another one of the best places to see bison in Yellowstone in Lamar Valley.
Lamar Valley is located in the far, northeastern section of the park. Like Hayden Valley, Lamar Valley has miles of road running through the valley floor. Generally, Lamar Valley is excellent for all kinds of wildlife sightings (including bears) because of its remote area in the park. This valley is also on our list for hidden gems in Yellowstone!
Of course, bison are also very common here! Again, pull over at one of the turn outs to see bison up close. With that said, it is also not uncommon here for bison to block the intersection leading out to Lamar Valley. Sometimes you have a traffic jam, but at least it's an entertaining view!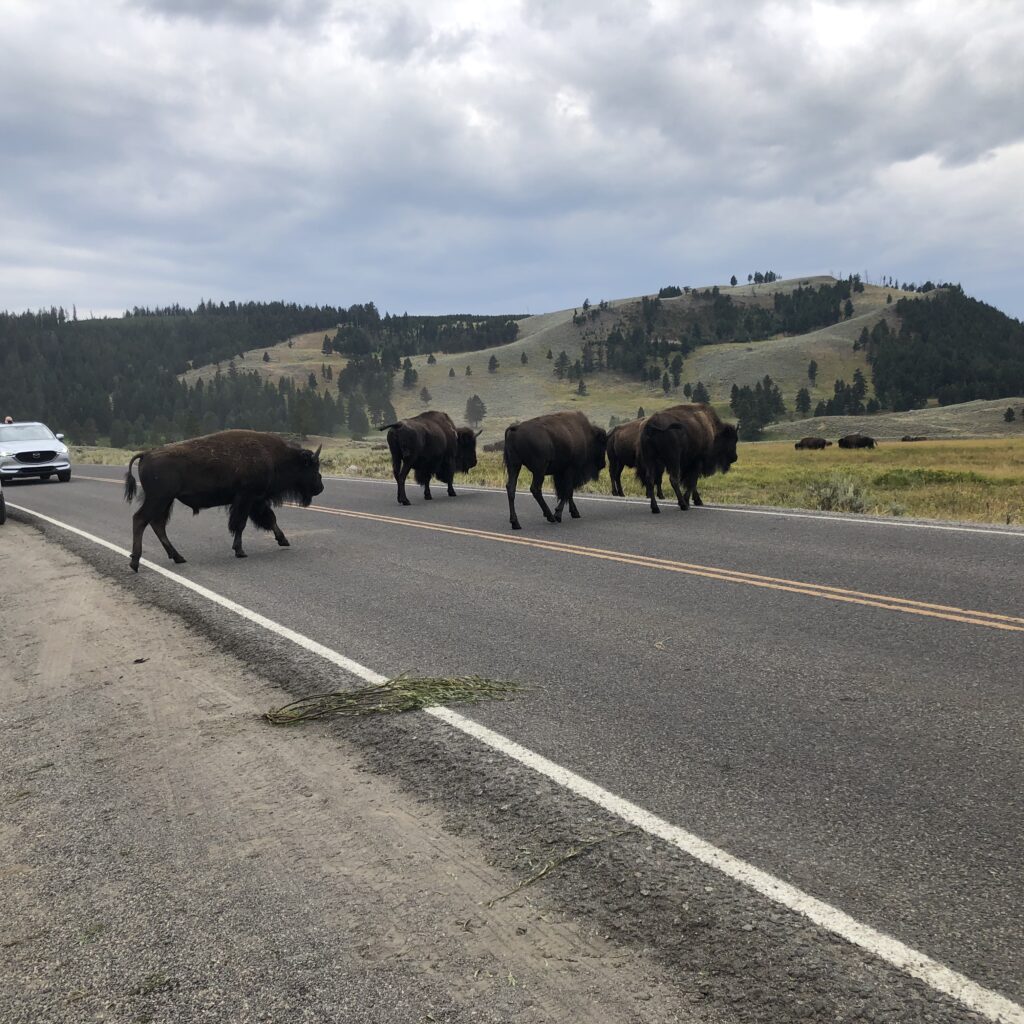 Now, you know where to see bison in Yellowstone. If wildlife viewing is on your list for your next visit to Yellowstone, be sure to visit on of these two valleys as I consider them the best places to see bison in Yellowstone.
Other good places to see bison in Yellowstone
Outside of Hayden Valley and Lamar Valley, there are a few other good viewing locations to see bison in Yellowstone. During the summer, any grasslands in the park is a good bet. During the winter, bison tend to flock to the warmer hydrothermal areas such as along the Madison River.
Finally, two of the other best places to see bison in Yellowstone are the Tower-Roosevelt area and Geyser basins.
How to see Bison in Yellowstone Safely?
While seeing bison in Yellowstone is an experience, it is also important to ensure you see them safely.
Bison are massive creatures weighing up to 2,000 pounds and can run up to 35 miles per hour. This is one beast you don't want to mess with! While they aren't normally aggressive towards humans, you don't want to risk it by getting too close. The park service recommends that you stay at least 25 years away for your safety. It is tempting to get close for a photo, but you can see bison in Yellowstone much more safely from a distance.
Lastly, do not go walking with your dog in the fields when bison are around, even if they are on a leash!
Conclusion
Bison in Yellowstone National Park are one of the favorite attractions in the park. Now that you know the best places to see bison in Yellowstone and when to bison in Yellowstone – just be sure to view them safely. Have fun, take photos and create a memorable experience during your next visit to Yellowstone!