National parks typically have very strict restrictions on pets. Yellowstone National Park is no exception. Keep reading to find out where you can take your dogs in Yellowstone.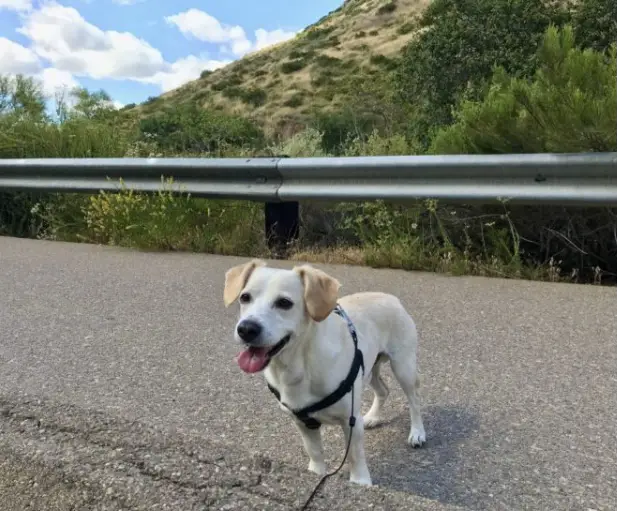 Are Dogs Allowed in Yellowstone?
The short answer is yes, dogs are allowed in Yellowstone National Park. BUT bringing your dog in Yellowstone will highly limit the activities and hiking you can do. 
Pets must be on a leash at all times and in developed areas only. Pets can be no more than 100 feet off roads, parking lots, and campgrounds. They can not be left unattended or tied to a post. This means outside of a campsite, you and your dog will be exploring Yellowstone through your car. 
If you have your dog in Yellowstone, plan for a lot of time at the campsite and scenic viewpoints rather than hiking in the backcountry. Remember, these rules exist to keep you and your pet safe. Wildlife is very active in this area, and letting your dog out of your sight can result in an unfortunate situation, especially in bison and bear country.
Dog Restrictions in Yellowstone
Here are where dogs are not allowed in Yellowstone:
According to the NPS.GOV website "dogs are not allowed on trails or boardwalks, in the backcountry, or in thermal areas."
For avid hikers and campers, taking your dogs in Yellowstone might seem burdensome. Don't lose all hope! There are still some activities that you can do with your furry friend.
Tips for Bringing Dogs in Yellowstone
Plan ahead! If you're bringing your dog in Yellowstone, the more planning you can do the better the trip you'll have. Most of Yellowstone National Park is located in Wyoming, with small parts in Idaho and Montana. While hiking with your dog in Yellowstone is not an option, there are plenty of hiking trails just outside the park in the various states that you and fido will be happy with! Pick a few trails, download the maps since service can be spotty, and off you go!
Do not leave your dog unattended. Yellowstone is full of active animals including bears and wolves who see dogs as threats. Do not leave your dog at a campground, in the car, or tied to a post somewhere. It's against the park's rules and dangerous for your dog.
If you want to hike in Yellowstone, the best thing you can do is board your dog at one of the many boarding facilities outside Yellowstone National Park.. Or if you're traveling with someone, you can take turns "dog sitting" while someone hikes.
If you're camping with your dogs in Yellowstone, do not leave pet food or water out. It can attract animals and potentially cause a dangerous interaction. Once you're done feeding your dog, put all food and water away in proper bear canisters or designated food storage lockers.
Plan for no cell service. Like most national parks, Yellowstone's cell service can be spotty at best. It's best to have your hikes and driving routes planned ahead of time.
Carry bear spray with you always. You're in grizzly bear territory. Come prepared!
Scenic overlooks are your best friend when traveling with dogs in Yellowstone. Since your dog is confined to stay within 100 feet of parking lots and roads, I suggest keeping an eye out for lookout points. This will allow you to see the park without having to leave your dog in the car.
Where Can you Take your Dog in Yellowstone?
Old Faithful (West Entrance)
A must do attraction for anyone visiting Yellowstone Park. Along with the wildlife and beautiful scenery, geysers like Old Faithful are one of the main reasons Yellowstone became the world's first national park in 1872. There's a designated dog area 200 feet away where you and your dog can watch the geyser erupt in all its glory. 
Kepler Cascades (West Entrance)
This is a scenic overlook on a roadside pullout just 2.5 miles south of Old Faithful. It's a three tiered cascade that drops over 50 feet. Because you can view the cascades from the road, Kepler Cascades is a fun activity to do with your dogs in Yellowstone. 
Mammoth Hot Springs (North Entrance)
While you and your dog are not allowed on the boardwalks in this area, you can still see some of the popular features from the parking lot. Keep in mind that you must keep your dog on a leash at all times and you should not leave them unattended in the car. Temps rise quickly during warmer days and can cause your dog to overheat if left unattended. 
Enjoy the drive on Grand Loop Rd
Yellowstone has one major road throughout the park- Grand Loop Rd. It forms a figure 8 and can be looked at as an upper loop and lower loop. Without stopping, plan for each loop to take about 2.5 hours each. You can stop any pullout and take in the views as well as stretch the legs (including your pup as long as they're on a leash).
Find a Scenic Overlook on North Rim Drive
North Rim Drive is home to Lookout Point, Inspiration Point, and Brink of Lower Falls. You must keep your dog on a leash within 100 feet of a road or parking lot in a developed area. Thankfully most of these areas have amazing viewpoints from the parking lot. If you want a closer look at the Yellowstone River from any of these areas, you'll have to leave your pup in the car while you do a short hike. 
Lookout Point: 0.15 mile round trip
Inspiration Point: 0.1 mile from parking lot
Brink of Lower Falls: 2.3 miles round trip 
In summary, there are several scenic places where dogs are allowed in Yellowstone. Plan your itinerary so that you know in advance!
Dog Friendly Hikes Near Yellowstone
Since there aren't a lot of long hikes to take dogs in Yellowstone, here are a few dog friendly hikes near Yellowstone.
Firstly, dogs are not allowed on any of the hiking trails or backcountry in Yellowstone. Some campsites do have dog friendly trails that you can walk your dog on once you're back at camp. But other than those trails, you can not hike with your dog in Yellowstone. 
Fortunately, there are other areas (Custer-Gallatin National Forest and Shoshone National Forest) just outside Yellowstone that are dog friendly! These dog friendly hiking trails near Yellowstone are a great place to allow your dog to stretch their legs and play before heading into the park.
Coffin Lakes
This is a longer hike just outside of West Yellowstone. There's a lake at the summit that you and your dog can play in. But it's not easy to get to. This hike is 11.3 miles roundtrip with over 2,000 feet of elevation gain. Plan for this hike to take half a day. It's a great dog friendly hike near Yellowstone if you have the time/ hiking ability to do so.
Refuge Point Loop
An easier hike just outside of West Yellowstone. This is a 2.5 mile loop with about 200 feet of elevation gain. The trail can get overgrown and gets buggy during warmer months. Along this hiking trail, you'll come across the Madison River. A great stop for the dogs to swim and play. 
The Madison River was the result of a devastating 7.3 earthquake that claimed the lives of 28 people. Over time the Madison River's water level has been decreasing significantly and it won't be here forever. 
Boundary Trail 
This is a 5 mile easy hike right on the border of Yellowstone National Park. Although dogs are allowed off leash in some areas, you could come across some wildlife from Yellowstone. It's best to keep your dog leashed and always carry bear spray.
Crazy Creek Falls
Shoshone National Forest
25 min from Northeast entrance
This is a 1.8 mile easy hike closer to the northeast entrance of Yellowstone. It features a cascade/ small waterfall. This is a quick stop to stretch the legs before taking your dogs in Yellowstone. Always check for road closures before heading into Yellowstone. Road closures could add a significant amount of time to your drive. 
Pahashka Sunlight Trail
Shoshone National Forest
Trailhead: Turnoff on I-14
5 min from East entrance
Really close to Yellowstone's east entrance, this is a convenient stop before entering the park. It's a 4.3 mile moderate hike that highlights Wyoming's countryside. It's not uncommon to see bears and other wildlife in the area. If you're planning to head to Yellowstone, then you should already have bear spray packed. Reviews also mention lack of trail signage, so it's best to have a map handy if you're planning on stopping here. 
Conclusion on Dogs in Yellowstone
In summary, while dogs are allowed in Yellowstone; the restrictions on where you can go with your pet are limited. Be prepared before your visit by knowing where you can take your dog at Yellowstone. My personal recommendation is to try some of the dog friendly hikes nearby and around Yellowstone which are longer and will allow your dogs to stretch their legs more.